Kerala Minister for Tourism and Devaswom, Shri. Kadakampally Surendran, inaugurated the conference. Dr. A. Sukumaran Nair, GEP Chairman, former Vice Chancellor of Mahatma Gandhi University was the Chief Guest, and was presented with the IVPT's Vidya Award.
In his inaugural address the Minister praised the innovative method of ETC and lauded the organization's commitment to rooting out social ills through total education.
"The philosophy of Education for Total Consciousness shifts the focus of education back to its noble goals, away from the modern trend of educational institutions becoming enterprises and degree factories," he said. "It gives integrity, creativity and knowledge back to teachers. It gives students the joy in learning, self-confidence, and wisdom. I congratulate the Isa Viswa Prajnana Trust on holding this conference, and welcome the international delegates to Kerala."
The Minister lit the inaugural lamp, and each delegate in the hall was given a small lamp and the light was passed to all, symbolizing the light of knowledge.
GEP Founder Jagadguru Swami Isa gave the invocation address. He noted that "Everyone knows the endless problems plaguing modern education--eveywhere in the world. A large number of educational experiments have been carried out, and are still going on. But no one has addressed the root cause. Only Total Education, which links objective and subjective knowledge, can solve this."
Distinguished Gandhian educator Prof. N. Radhakrishnan gave the Keynote Address. Dr. S. Sreedevi, Former Principal, Govt Training College, Dr. C.P. Sreekantan Nair, Academic Director, PTM College and Dr. Alok Kumar Gupta, Regional Director, National Institute of Open Schools, Govt of India gave Felicitations and presented papers.
The forenoon session saw presentations on the Challenges Facing Teachers, Students and Parents. The Afternoon session focused on how the Education for Total Consciousness method addresses those challenges, and included a presentation on its comparison to Western educational methods, and an Education for Total Consciousness demonstration class.
GEP Members from Germany, France and India participated, including: Dr. Christophe Dumas, Head of Solar-Thermal Dept, CEA, France, Prof. R.L. Bindu, Head of Dept. of Education, University of Kerala, Mrs. Caroline Dumas, Teacher from France, Mrs. Franziska Guderle, Social Pedagogue from Germany, Mrs. Stephanie Pfeiffer, Diploma in Montessori, Germany, and Dr. Divya C. Senan, Professor, Dept of Education, University of Kerala and Mrs. Roshini, Teacher at Isa Viswa Vidyalayam made presentations.
The session was moderated by Dr. V. Reghu, Former Professor, Dean & Controller of Examinations, RGNIYD, Chennai. GEP Secretary Dr. M.R. Thampan gave the Welcome Address.
Hon. Minister Kadakampally Surendran and Dr. A. Sukumaran Nair lighting the Inaugural lamp
The IVPT's Vidya Award was presented to Dr. A. Sukumaran Nair by the Minister
Swami Isa spoke on the Education for Total Consciousness method
Light Ceremony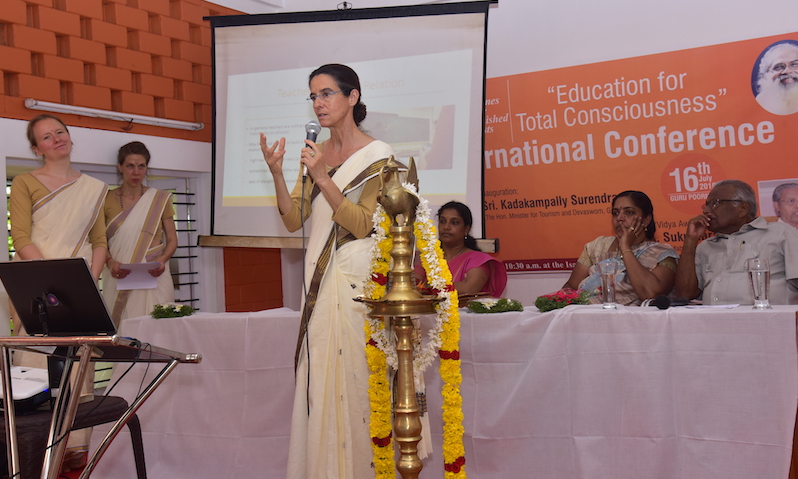 Caroline Dumas from France presenting a comparison between Western and Eastern modes of education
Dr. S. Sreedevi, Dr. V. Reghu, and Dr. C.P Sreekantan Nair.