The 8th annual session of the Global Energy Parliament was held on December 9-10, 2017 at the first Assembly Hall of the Kerala government at the State Secretariat, Thiruvananthapuram, Kerala, India. 360 people from 16 nations participated in the session. The first day was devoted to the Global Parliament and the second to the Students' Parliament. The theme of GEP 2017 was "Science for Freedom and Happiness."
Prof P.J. Kurien, Deputy Chairman of the Rajya Sabha, inaugurated the parliament, and Shri. Kadakampally Surendran, the Hon'ble Minister of Tourism, Cooperation and Devaswom, Govt of Kerala, inaugurated the Students' Parliament.
Shri. Kadakampally Surendran and Prof. P.J. Kurien light the inaugural lamp
Shri. Kummanam Rajasekharan, President of BJP Kerala, Dr. Ajayaghosh, Director of CSIR-NIIT, Shri. K.P. Mohanan, CEO of JaiHind TV all felicitated the Parliament during the inaugural session.
Dr. C.V. Ananda Bose, IAS, Speaker of the Parliament, presided over the inauguration, and read aloud a warm message from Shri. K.J. Alphons, the Hon. Minister of Tourism and Electronics, Government of India. Dr. M.R. Thampan, Secretary of GEP, gave the Welcome Address.
A Ceremony was held to honour each nation represented at the GEP 2017. Each delegate was paraded with their country's flag and presented with a Global Peace Shawl from one dignitary. The countries represented were: Australia, Denmark, Germany, France, Spain, Sri Lanka, USA, UK, Japan, Brazil, Greece, Italy, Uruguay, Russia, New Zealand, and India.
Global Peace Shawl Ceremony - video (Click to view)
The inaugural speeches emphasized the unique approach of the Global Energy Parliament, which is to develop solutions to global problems through approaches and technologies that create energy equilibrium. This is achieved by applying the Founder's "I Theory".
History was made when Prof. Kurien -- who is the presiding Officer of the Upper House of the Indian Parliament (Rajya Sabha) in the world's largest democracy -- chaired the first session of the GEP.
Prof. P.J. Kurien chairs the first session - video (Click to view)
Prof. P.J. Kurien, Deputy Chairman of the Rajya Sabha (India's Upper House of Parliament) chairing the first session
Subsequently, the GEP Speaker, Dr CV Ananda Bose, took the seat and chaired the Question Hour, Submissions, Presentation of Bill, and Discussions. The first hour each day was arranged as the Question Hour. 18 total questions were asked by the Members of Parliament and all these questions were promptly attended and answered by the concerned Ministers.
Altogether 28 submissions on various issues such as Energy, Healthcare, Water scarcity, Waste Management, Environmental Pollution, Information Technology, Defence, problems of the physically challenged people, Agriculture, etc. were made on the first day. On the second, submissions relating to Literature, History, Mathematics, were given.
Two bills were presented and passed by the parliament; one on December 9th which was passed and became the "GEP Ministries Priorities Act 2017," and one on Education for Total Consciousness passed on December 10th by the Students' Parliament.
Lady Carla Davis, GEP Minister for Environment, responds during the Question Hour
His Holiness Jagadguru Swami Isa, Founder of the GEP, addressed the parliament two times. In the Inaugural Session on the first day, he explained his unified theory of everything, the "I Theory". He stated that the accuracy and factual perfection made possible by science deserves appreciation. Self-centred efforts to accumulate wealth promotes selfishness, destruction, sorrow and misery. To increase freedom and happiness through science, it is essential to initiate the study of inner science—the science of gross, subtle and causal bodies—and it should be on par with the sharp, accurate fact-finding study that is transpiring in the physical sciences.
In his address made on the topic about education the second day, for the Students' Parliament, Swamiji stated that when the fundamental units of energy are arranged differently, the dominating quality changes. For instance, we arrange letters in such a manner to make words. When these arrangements change, the words change and the meaning is also changed. All disciplines have a scientific component, positives and negatives, white matter and black matter. Through 'Education for Total Consciousness', the positives and white matter can be increased, balance can be maintained. Freedom and happiness in the true sense can be attained.
His Holiness Jagadguru Swami Isa, Founder of GEP
Eminent personalities from different walks of life addressed the parliament. Ven. Professor Bellanwila Wimalaratana, a University Chancellor and Buddhist leader from Sri Lanka, said that through scientific thinking the "I Theory" will give people the possibility to understand the basics of happiness and freedom, which is also promoted in the Buddhist tradition.
Ven. Banagala Upatissa Nayaka Thero, President of the Mahabodhi Society of Sri Lanka, also spoke about last year's session of the GEP with the Prime Minister of Sri Lanka in Colombo, and its historical significance for bringing different communities together with science and peace as its guiding principles.
Dr. C.V. Ananda Bose in the Speaker's Chair, with Ven. Banagala Upatissa Nayaka Thero of Sri Lanka, and His Holiness Jagadguru Swami Isa
Dr. N. Radhakrishnan, a veteran Gandhian philosopher, activist and the Chairman of the Kerala Gandhi Smaraka Nidhi, stated that people believe they are on top of the world and science has given them everything. But the basis of civilization lies within the hearts of the people. The way in which we handle science determines the extent of happiness that it can provide. A peaceful man is a candle which spreads light of hope and happiness.
Padmini Thomas, a former Olympic athlete, addressed the parliament and stressed the need and importance of sports and recreation in personal transformation and happiness.
Former Olympic athlete Padmini Thomas being interviewed by the GEP Student Deputy Speaker, Rohini M.
The Hon. Speaker of the Republic of Sri Lanka also made a video address to the parliament. He said all governments are working overtime to overcome the plethora of problems in the society, but the problems keep on increasing. Total education, sustainable economics, habitat, energy, governance, etc. are some subjects of great importance which the GEP has been addressing to mitigate this situation. He emphasized the relevance of the "I Theory" and the role of science in promoting happiness and freedom.
Lady Carla Davis of Australia, the GEP Minister for Environment, also emphasized that when people or cultures violate the laws of Nature and/or human rights, they eventually pay a high price or become extinct. Thus, she said, we must always respect the laws of Nature and the rights of others. Peace equals prosperity. She emphasized the power of the consumer in making the desired changes in society.
A Motion of Thanks was presented by Chanaka Gunathunga from Sri Lanka and was passed by the Parliament.
On the second day, the Students' Parliament was held, with Student and Faculty Ministers and Members in each discipline. Prof. V. Unnikrishnan Nayar was the Hon. Faculty Speaker and Shri. A.P. Prejish was the Students' Parliament Speaker.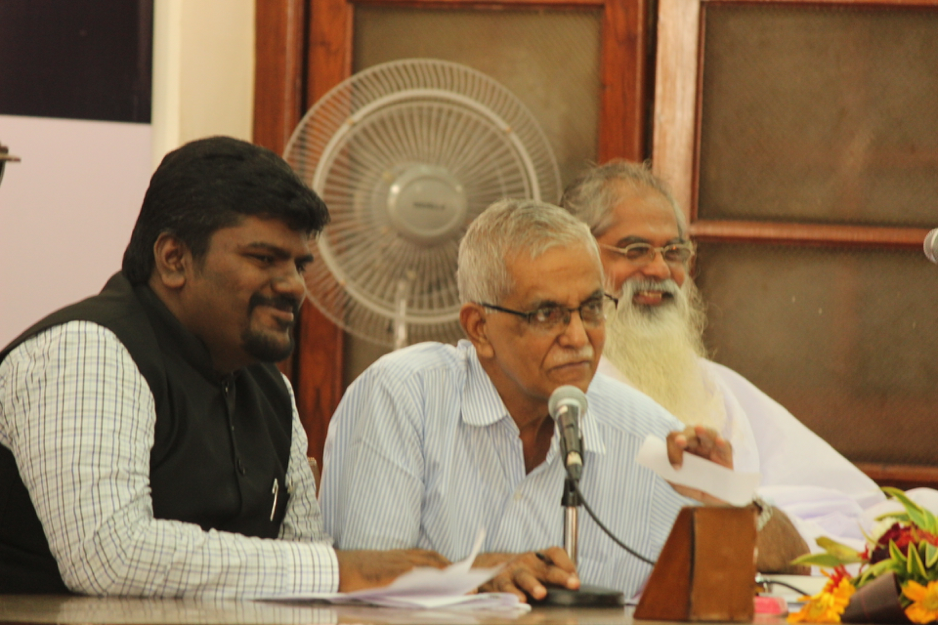 Shri. A.P. Prejish, Students' Parliament Speaker and Prof. V. Unnikrishnan Nayar, Faculty Speaker with H.H. Jagadguru Swami Isa
The Students' Parliament also commenced with the Founder's Address followed by the Question Hour. Later time was allotted for Submissions, presentation of a Bill, and discussions.
The Students' Parliament was focused on two aspects: 1) How can the "I Theory" be practically applied to each field of study, like Economics, Physics, Literature, etc., to help us understand our disciplines better? And 2) what improvements should be made in each field of study through a re-orientation of education towards a balance between the subjective and objective aspects of knowledge?
An exciting day followed with enthusiastic and dynamic students asking questions, answering questions, holding discussions and developing ideas together for taking the momentum forward and into campuses. It was resolved to create a Campus Ambassador Program wherein every campus has a GEP Ambassador to help address critical issues of education and mentor the students.
Paras Dubey, GEP Student Minister for Economics from Jammu & Kashmir, making a submission
At the conclusion of the second day, Shri. Ramesh Chennithala, the Leader of the Opposition of Kerala State, gave the Valedictory Address. Shri. G. Madhavan Nair, Former Chairman of the India Space Research Organization presided over the function. Shri. Vakkom B. Purushottam, the former Governor of the Andaman and Nicobar Islands and Shri. N. Sakthan were honoured by the Students' Parliament for being former Speakers of the Kerala Legislative Assembly.
Shri. Ramesh Chennithala gives Valedictory Address with dignitaries on the dias
The Global Energy Parliament awarded several outstanding individuals at the Valedictory Function, with trophies distributed by Lady Carla Davis. The winners are as below:
Best Minister: Dr. Christophe Dumas, Head of Solar-Thermal Division, Centre for Alternative and Atomic Energy (CEA), Cadarache, France. He had presented the Bill on the 1st day and explained the physics aspects of the "I Theory". He is also working on several research projects related to "I Theory" and renewable energy.
Best Parliamentarian: Dr. P. Krishna Kumar, presently working as Associate Professor in Economics ad Kerala Law Academy, Law College, Trivandrum, who was earlier an Associate Professor of Economics (Ret'd), M.G. College, Trivandrum. He had presented the Education Bill on the 2nd day.
Best Submission: Dr. Sujakshi Haridas, Physician (Ret'd) spoke about the holistic vision of health propagated by the GEP, and also responded to several other submissions. Dr Sujakshi was very engaged throughout the parliament.
Best Student Minister: Anusruti S.S., Govt Law College A very engaged member of parliament and a terrific speaker, who clearly outlines how the "I Theory" can be applied in Law and can uplift society through it. She is a terrific and inspiring leader.
Best Student Parliamentarian: Paras Dubey, 5 years Integrated M.Sc. Economics, Shri Mata Vaishno Devi University, Jammu & Kashmir. Paras is an all-round very committed and dignified young parliamentarian who acted as the Minister of Economics and has already begun working in his university to implement the GEP priorities on campus.
Best Student Submission: Anoop Krishnan H., BA Journalism Mass Communication and Video Production, Mar Ivanios College Thiruvananthapuram is another all-round wonderful parliamentarian who has ability to frame wonderful questions, interact with all, pushing the agenda of GEP forward and representing the youth of today.
GEP 2017 was organized by the Isa Viswa Prajnana Trust with the support of the Centre for Parliamentary Studies, Kerala Legislature Secretariat, the Ministry of Tourism-Kerala, GC-Avocats (France), Personal-Point GmbH (Germany) and the Nirbhaya Debating Society. IVPT thanks all of these institutions for their immense support.
The list of 2017-18 Ministers follows.
GLOBAL MINISTERS
Speaker: Dr. C.V. Ananda Bose, IAS (Ret'd), Distinguished Fellow, Lal Bahadur Shastri Academy of Administration, Mussoorie
Prime Minister:
Dr. A. Sukumaran Nair, Former Vice Chancellor, M.G. University-Kottayam
Parliamentary Affairs:
Prof. V. Unnikrishnan Nayar, Ret'd Dean, Faculty of Sciences, CUSAT
Science & Technology:
Dr. Christophe Dumas, Head, Solar-Thermal Department, Centre for Alternative and Atomic Energy (CEA)-Cadarache, France
Environment:
Lady Carla Davis, Author, Nutritionist and CEO, South Seas University
Education:
Prof. Ven. Bellanvila Wimalaratana, Chancellor, Sri Jayawardhanapura University, Sri Lanka
Power:
Prof. V.K. Damodaran, Energy Consultant, UNIDO
IT/Communications:
Ramaswamy Senthil Murugan, Chairman, Bluechip Technical Services
Culture:
Dr. M.R. Thampan, Former Director, Kerala State Institute of Languages
Law and Order:
Soma Rajan K.P., Former Director General of Police
Finance and Sustainable Development:
Dr. K. Ravi, Former Advisor for Sustainable Development to the Commonwealth Secretariat
Human Resources:
Dr Dirk Seeling, Founder and CEO, Personal-Point GmbH, Germany
Women's Empowerment:
Dr. K.G. Vijayalekshmy, Chairperson, Women Empowerment and Human Resource Development Centre of India
Defense:
Colonel R.G. Nair, Former Director- Recruiting (Officers Selection) at the Army Headquarters
Museums & Archaeology:
Prof. M.G. Sasibhooshan, Professor (Ret'f), University College
Transportation:
Dr. B.G. Sreedevi, Senior Scientist, NAFPAC
Housing:
Pradeep S., Architect
Agriculture:
R. Hali, Director (Ret'd), Department of Agriculture
Social Welfare:
Dr BS Balachandran, Director General, Bharat Seva Samaj
Water & Natural Resources:
R. Ramanujam, Former MD, KWA
Public Services:
Adv. VS Harindranath, Former Syndicate Member and PSC Member
Entrepreneurship:
Vineetha, CFO, I-Bozon
FACULTY MINISTERS
Speaker: Prof. V. Unnikrishnan Nayar
Agriculture:
Prof. K. Rajmohan, Ret'd HOD, Biotechnology, Kerala Agricultural University
Arts:
Prof. Katoor Narayana Pillai, Former Principal, Arts College
Biodiversity:
Prof. Oommen V. Oommen, Hon. Director, Centre for Venom Informatics
Business & Commerce:
Prof. Vijayakumar, Principal, Kerala Institute of Travel and Tourism Studies
Chemistry:
Dr. Neena Thomas, Asst. Professor, Mar Theophilus Training College
Communications:
Ajith Venniyoor, Faculty, BHAVANS College of Communication and Management
Geology:
Dr. P.S. Anil Kumar, Head, Geological Survey of India-Kerala Unit
Economics:
Dr. P. Krishna Kumar, Professor of Economics (Ret'd)
Education:
Dr. Bindu RL, Associate Professor, Dept of Education, University of Kerala
Engineering:
Prof K.K. Vasu, HOD & Principal in RIT, Engineering College of Kerala
Environmental Sciences:
Prof. CT Varghese, Professor (Ret'd) of Zoology, Mar Ivanios College
History:
Dr. Sugitha Gangadharan, (Ret'd) Reader in History, Government Arts College
International Relations:
Chanaka Gunathunga, Former Director International Relations to His Excellency the President of Sri Lanka
Law:
Adv. Rahim, Advocate
Literature:
Prof. Jolly Varghese, Professor of Literature, Mar Ivanios College
Management:
Mary Panackal, Faculty in Management, CAMS College
Mechanical Engineering:
Dr. George Varghese, HOD (Ret'd) Mechanical Engg, Mar Ivanios College
Medicine:
Dr. Sujakshi Haridas, Physician
Natural Sciences:
Prof. B.N. Pandey, Ret'd HOD of Zoology, Magadh University
Political Sciences:
Sharmila K.V., Teacher, Government Model Higher Secondary School
Physics:
Prof V. P. Nampoori, Ret'd HOD, Physics, CUSAT
Zoology:
Dr. Randhir Kumar Singh, Professor of Zoology, Magadh University
STUDENT MINISTERS
Speaker: A.P. Prejish
Deputy Speaker: Rohini M.
Agriculture: Sruthy Venugopal
Arts: Amal Roy
Biodiversity: Shyama Prabha
Business & Commerce: Gayathri S. Mohan
Chemistry: Rahul S. Kumar
Communications: Anandhu
Economics: Paras Dubey
Education: Tarak Ram
Engineering: Aswin Padmakumar
Environmental Sciences: Rameesha
Law: Anusruthi S.
Literature: Sidharth M Joy
Management: Shijo Joseph
Natural Sciences: Anna Maria Abraham
Political Science: Noufal
Physics: Swapna M.S.
Social Science: Akhil P J
Women's Empowerment: Anna Philip
Please go to our Gallery to see more photos of GEP 2017.
Sustainable Development Goals
The organizer of the Global Energy Parliament--the Isa Viswa Prajnana Trust--supports and promotes the United Nations agenda, and in particular, the Sustainable Development Goals. IVPT holds Special Consultative Status to the UN's Economic and Social Council (ECOSOC).
This event promotes all the United Nations Sustainable Development Goals, but in particular, Goals No. 4 (Quality Education) and 9 (Industry, Innovation and Infrastructure).